Jurassic World: Dominion Dominates Fandom Wikis - The Loop
Play Sound
"See on this team nothing just gets handed to you. It has to be earned. That's what makes us the best." ― Thea to Simone
Thea Mays is a main character in "All American: Homecoming". She is portrayed by Camille Hyde.
She is queen-bee sophomore that gives off slight mean girl tendencies. A tennis prodigy, she takes her responsibility for representing the Black community in the sport very seriously. Simone's arrival at Bringston shakes things up for Thea as her instant dislike of her rival clashes with the bond they share as Black women in Tennis.
Biography
Throughout All American
Throughout All American: Homecoming
Simone is practicing tennis on the court when Thea and her friend intervene. Thea makes a point of telling Simone that four other girls are striving for a spot on her team. On this team, things won't be handed to her, it has to be earned. That's why they're the best. Only the best woman will win the spot. Simone wants to get back to practicing, so Thea reminds her that real practice starts tomorrow and since the NCAA limits coaches' hours, she'll be running the drills, and her opinion does matter.
In the morning, Simone begins tennis practice and Thea warns them they'll be there for a while. Thea drills Simone to hit ten in a row and refuses to move on until she does. Tennis tryouts are almost over and Simone jogs off the court. Thea stops her as Coach Loni has seen enough and is sending her home. Simone is confused as Thea said Loni couldn't be on the field. Thea admits that she's always watching, showing her a series of text messages in which Loni admonishes Simone for sloppy footwork and unacceptable training. She gestures to a parking garage where a car is parked.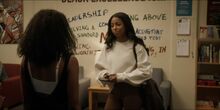 That night, Simone runs to the elevators as Thea passes. Simone wants to find Coach Loni but Thea knows the coach has seen enough today. Simone knows she's messed up but she needs Loni to know she'll never see Simone like that again. Coach Loni believes in actions and not words, but Simone plans to show it to her every day to prove she's an asset. She walks off and Thea nods a bit impressed.[1]
Once the semester officially starts, Coach Loni breaks down the schedule for the tennis players. They discuss Queen of the Court, a tradition at Bringston. Thea is the reigning Queen and schools the uninitiated. It's teammate versus teammate in a series of single-elimination matches. The last two women standing will battle to become Queen of the Court. In class, Thea is assigned to Damon and Simone for an assignment in English literature. She doesn't care about either of them, even ignoring Damon's attempts to introduce himself, as she only cares about getting an A. Thea cancels their lunchtime sessions as she went ahead and picked out the book they would be reading, and assigns each of them a role in the presentation.
Simone arrives late to her court time, but the player there isn't interested in her excuses. The court time is booked solid by Thea, leading to Simone confronting her. Thea claims dedication isn't an issue for the other players, only Simone. She calls Simone out for not scheduling the time sooner or showing Coach Loni her dedication. The next day in class, Simone, Damon, and Thea's presentation goes well and the class claps for Simone's speech. Damon praises her though Thea snips at her for going off-script. Professor Corte decides to go with Simone's ideas, and Thea attempts to take credit but he cuts her off. Corte offers Simone a job working with the alumni office.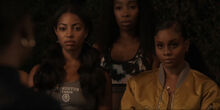 Simone gives Loni her clearance note from President Allen, making it in time for Queen of the Court. Simone outmatches everyone on the court and makes it to the last match against Thea. The girls square off with Simone scoring the first point. Their match is live-streamed and Damon proudly watches Simone. The match is even set, but Thea ultimately wins. Thea praises Simone, and they shake hands. She gives props when due.[2]
Thea's birthday is approaching, with Keisha McCalla making a gift bag for her as she does with all the girls in the dorm. Simone hears about the event and everyone's aversion to throwing a party for Keisha. Simone sets up a surprise party for Thea when a girl arrives hoping to study. Thea arrives having heard about the party. She doesn't get what Simone is trying to do. Thea has no choice but to show up now that everyone knows, but Simone convinces her to show up so they can celebrate her.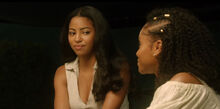 Simone and Thea head to the party together where Thea agrees to feign surprise. When they arrive, the room is empty except for a few male students playing video games, Keisha, and Nate. Thea knew that no one would show at her party and that's why she didn't want one. She leaves, feeling humiliated by the event. Simone finds Thea later that evening and apologizes as she wanted to celebrate with her friends. Thea doesn't have any friends as the girls from the team only tolerate her. Her parents paid for the facility and if anyone had a choice they wouldn't choose to hang out with her. Simone admits she made a mistake by projecting her birthday wishes onto Thea, instead of listening to her wishes. Thea commends her for trying. Simone asks how she wants to celebrate the rest of her day, and Thea just wants food. Simone takes Thea to Amara's for family dinner. Towards the end of the dinner, Thea admits to the group she's always wanted to pole dance, and Keisha has the perfect cap for her birthday. The girls pole dance at a dance studio while Simone watches.[3]
Personality
Physical Appearance
Appearances
Notes and Trivia
Gallery
References